Visual Production Solution for Oil & Gas Industry
Challenges
 Weak security protections: oil/gas wells, pipelines, stations, living camps and other production fields are usually widespread in desolate and complex terrains. Their safe and stable production may be affected in such conditions as they have neither real-time surveillance nor effective intrusion detection measures, not to mention good preparation for potential vandalism.
 Inefficient patrol inspection: it takes too much time and money to acquire production data and maintain equipment, furthermore, it's unable to report live field situations to the centers. Production and management efficiency is unfavorably affected.
 No alarms or delayed alarms: accidents like oil/gas leak and fire are easy to escalate and cause heavy casualties, when visual measures are absent and alarms are delayed.
 Inefficient emergency response: CCTV, dispatching and conference systems are independent, share no resources, have no data integration or analysis, and no intelligent linkage; they barely use other communication means except for audio, so it's impossible to coordinate resources of involving parties, locate and solve problems in short time.
Solution
SNO proposes a visual surveillance solution for oil & gas industry to ease customer minds. This solution sets about security, dispatch and network for safe oil/gas production, operation and management. Video surveillance, intrusion detection, multimedia dispatch and intelligent linkage deal with possible troubles caused by complex production and operation environment, widespread and distant locations; live surveillance, real-time alarms, fast emergency response and intelligent analysis functions deal with potential security risks of oil/gas production and operation; multiple networks and communication solutions are compatible with our system.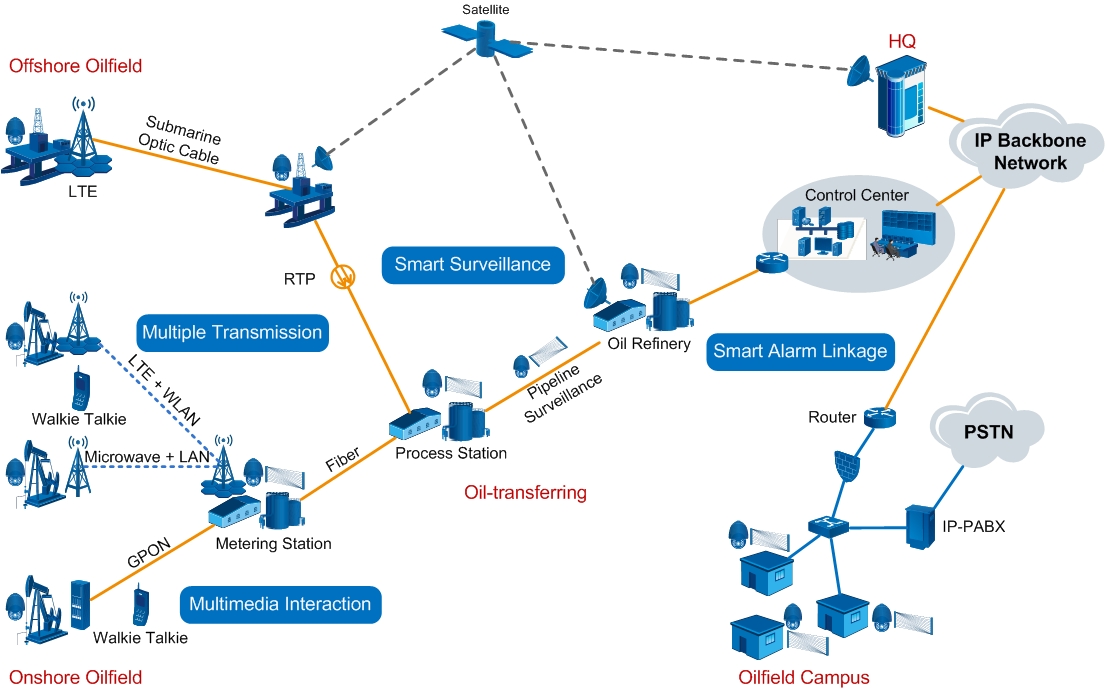 Customer Benefits
 Our intelligent video surveillance improves 30% security efficiency: live surveillance replaces patrol inspection; intelligent analysis saves much time for duty men; intelligent storage saves 30% disk cost; intelligent video synopsis saves much time to trace suspects and vehicles in accidents.
 Our interlinked alarms reduce 3% false alarm rate and speed up emergency response: surveillance videos are used to double check intrusion detection results, so false alarm rate is effectively decreased; independent security system needs personal check and telephone communication, but our intelligent linkage gets all field information of oil/gas production and operation exposed, so effective final decisions are fast made.
 Our multimedia communication improves 40% communication efficiency: besides audio communication, field staff and headquarters experts need live videos to know better field situations, find out troubles and solve them in short time; headquarters experts are able to give remote technical supports, so expenses on business travels will be less.
 Our diversified network solutions satisfy various business scenarios: optical fiber is for backbone network and new network; LTE network is for production areas where oil/gas wells are intensive; wireless bridge is for production areas where oil/gas wells are not intensive; WLAN network is for small scale of terminals; our networking modes are flexible for different business scenarios and requirements, so some investments will be saved for customers.