SNO 3MP PTZ 4X Zoom Wifi IP Camera Auto Tracking ONVIF Security CCTV Camera Audio AI Human Detection Outdoor Wireless Cam SNO-PT26W-30

Model:

SNO-PT26W-30

Brand:

SNOSECURE

Weight:

0.6KG

SNO 3MP PTZ 4X Zoom Wifi IP Camera Auto Tracking ONVIF Security CCTV Camera Audio AI Human Detection Outdoor Wireless Cam
Features: - HD 3MP Resolution 3.0MP High Definition image,Clear and fine images.Work only on 2.4G,not 5G. - Auto Tracking function This is our new function, it can track the person by automatic. - Audio Record Can record the sound around the camera,Most Other Camera Not Support Audio Record.Clear listening effect, Save voice evidence, True sound reproduction, Clear detail recording, Help you record important sound evidence. - Motion Detection Alarm The camera detects the moving person.Send a mobile phone alarm message. - PTZ Control Can rotate 355 degrees horizontally and rotate 90 degrees vertically.The mobile phone can control the rotation angle of the gimbal and see the direction you want to see. - Two-Way Audio Communication Filter noise, clearer sound, real-time two-way speech,Easy to deal with various problems.Drive away the bad guys. - WiFi Link Only need to connect to the wireless WIFI network,No need to plug-in network cable, Signal stability. - Mobile Video Surveillance Support mobile phone iOS, Android system,Remote monitoring of mobile phones,You can view and monitor at any time. - IP66 Waterproof Professional waterproof design,Outdoor waterproof, Good sealing, No need to worry about rain. - JPEG Snapshot Snapshot function.Snapshot function.Upload pictures from your phone. and AP mode password: 1234567890 - Infrared Night Vision View The Farthest IR Distance is up to 10-30M(different 3.6mm or 6mm lens). - Day&Night Three modes preview, black light full color infrared night vision double light warning; - TF Card TF card slot,Maximum support 128g(optional) - Support ONVIF Camera supports Onvif protocol.our ovif information: Media port: 34567 HTTP port:80 onvif port: 8899 - Compression Advanced H.265X video compression,Super low rate,high definition quality of image. - Center Platform Management Software icsee app, CMS for PC.

IP66 Waterproof&Dustproof
The Shell is made of high grade Plastic,which is waterproof,sun-proof and dust-proof, it is suitable for any environment.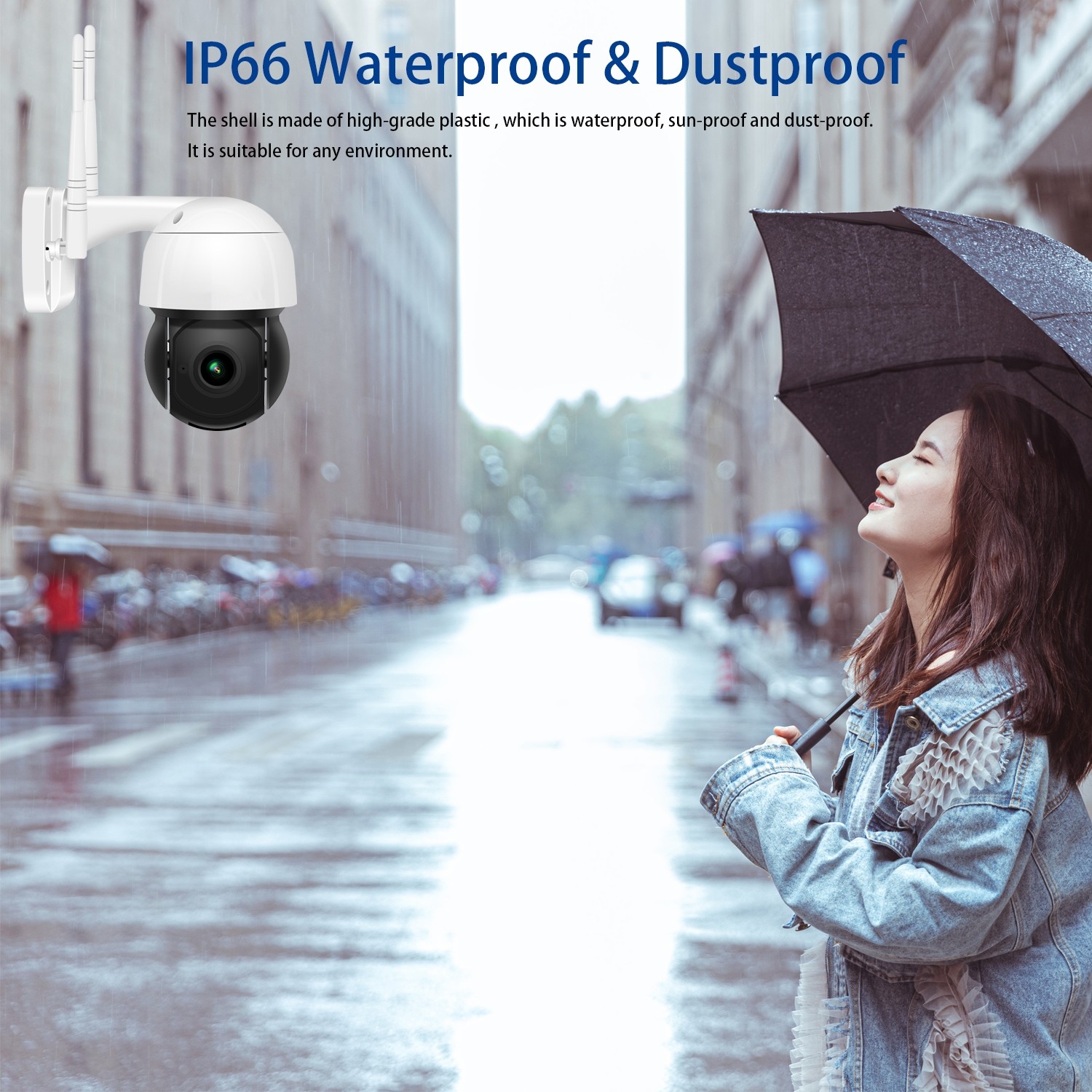 PTZ Remote Control Anywhere
Camera head are rotatable with 270° pan and 90° title.You can control it via the app and get a sweeping view on every inch of your entire house .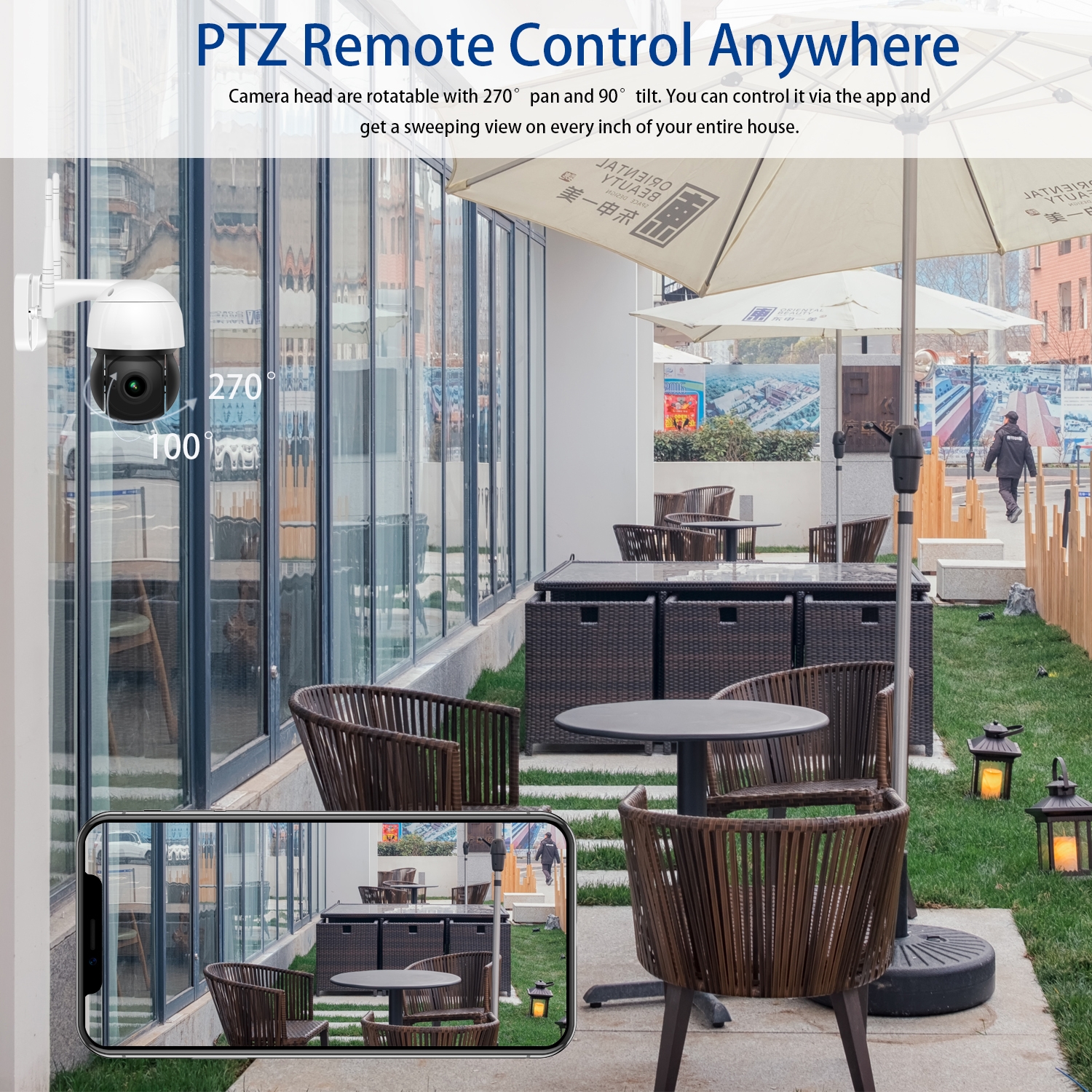 3.0MP High Resolution
3MP Image has more exquisite,better light saturation,lower noise and other advantages.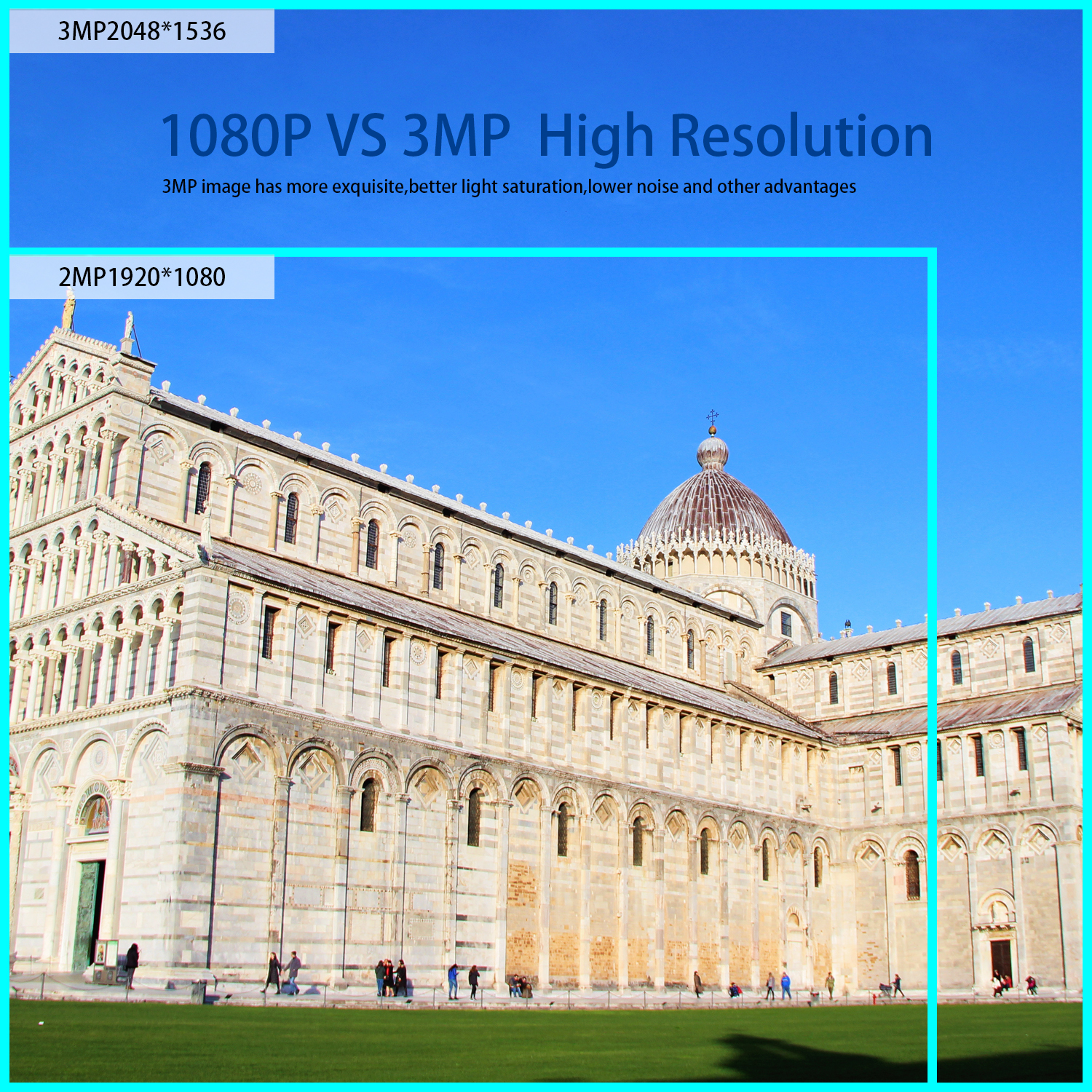 Auto Tracking
The Smart Camera will auto tracking,it will rotate with movement. the camera will detect and sent a notification message to your mobile phone .
Humanoid Dection
Support cordon&alert area custom dectect setting,Mix line,Area,two-way flow dection for human form.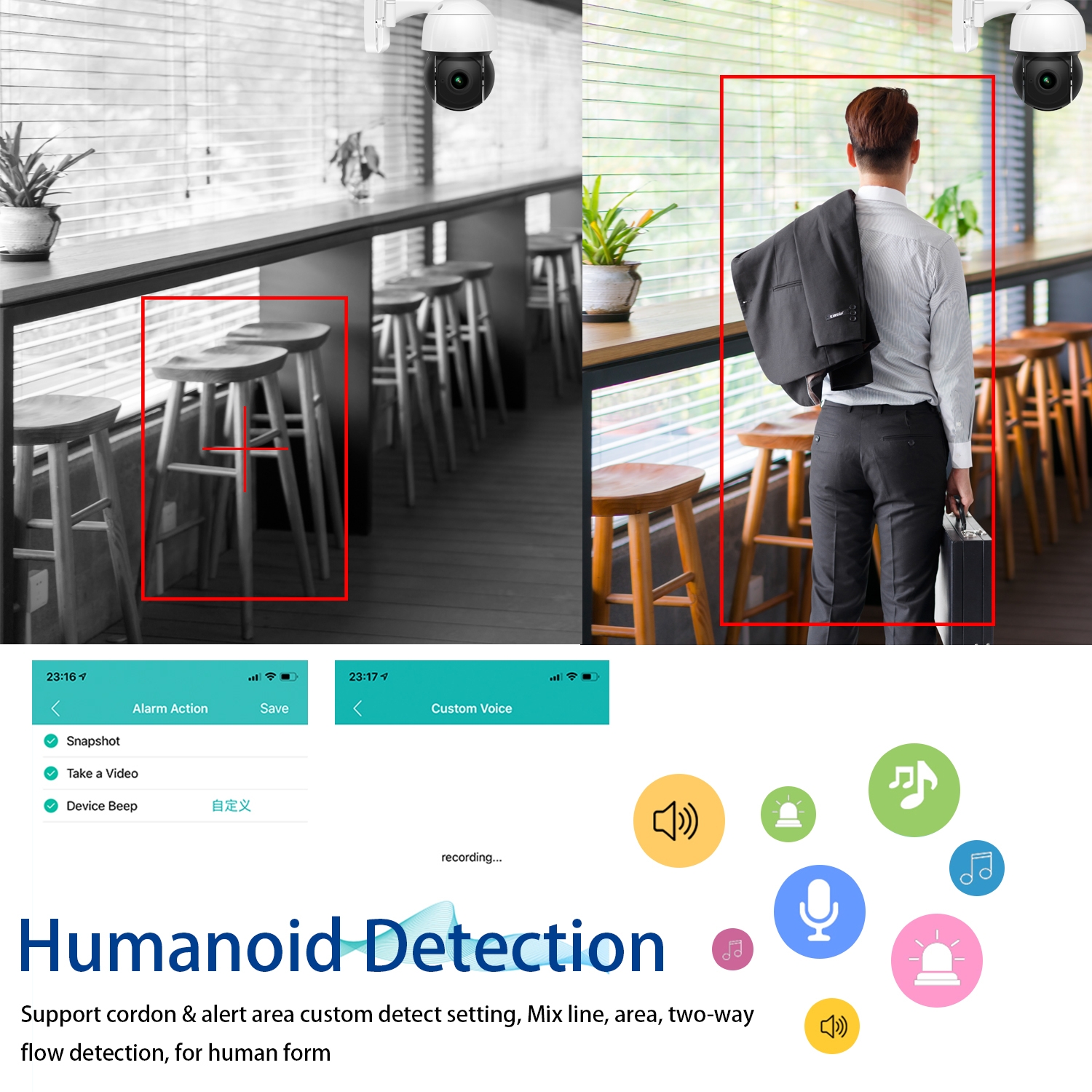 Smart Night Model
Built In 4pcs Infrared LEDs and 4pcs White LEDs,support 3 kinds of night vision mode.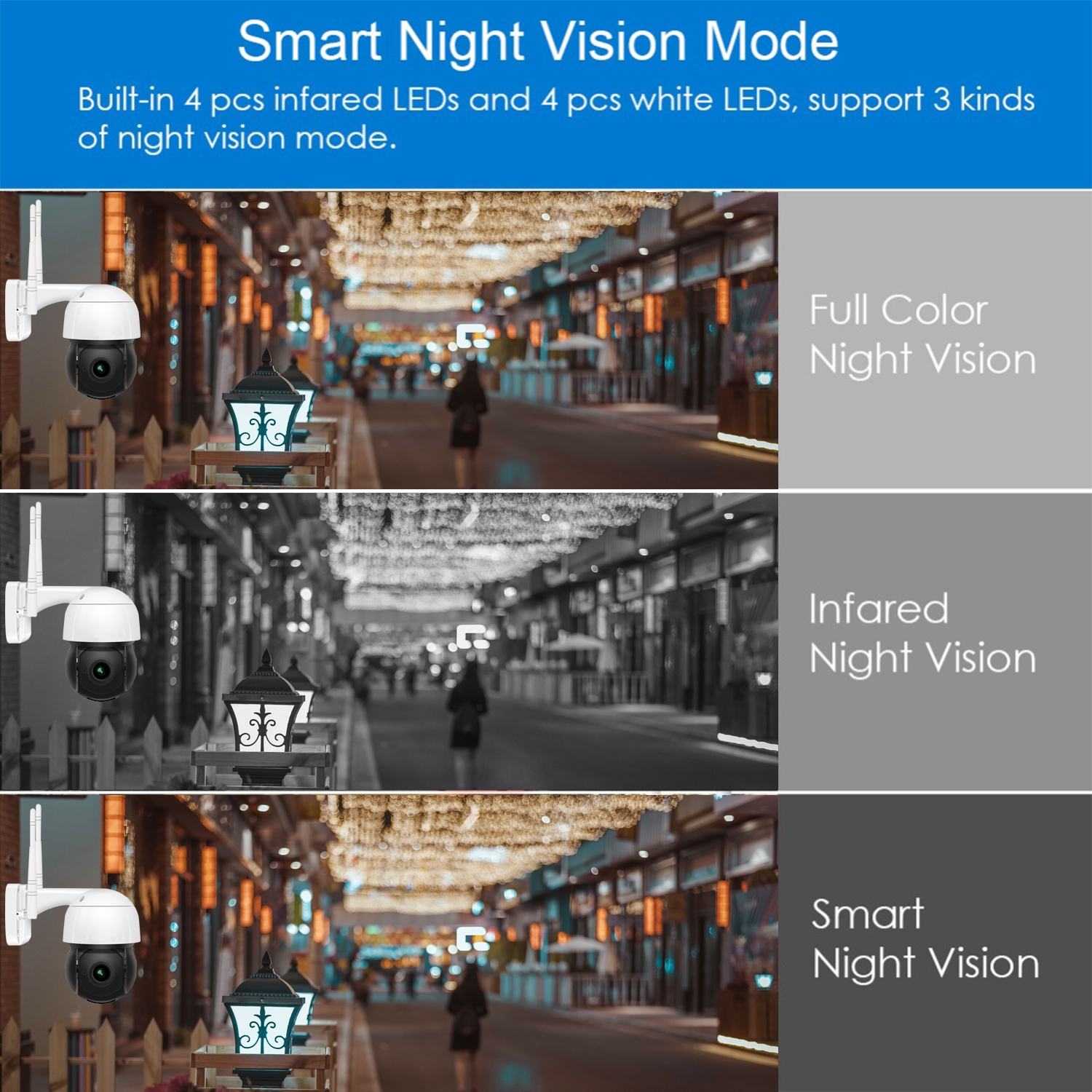 Smart Dual Light Source
Built-in 4Pcs White LED and 4Pcs IR LED, Monitor moving objects, automatically illuminate. This is an impressive little weapon against crime.
4.0X Digital Zoom
this camera support 4.0X Digital Zoom,Press and hold the screen with both hands to Zoom in/out and see more details .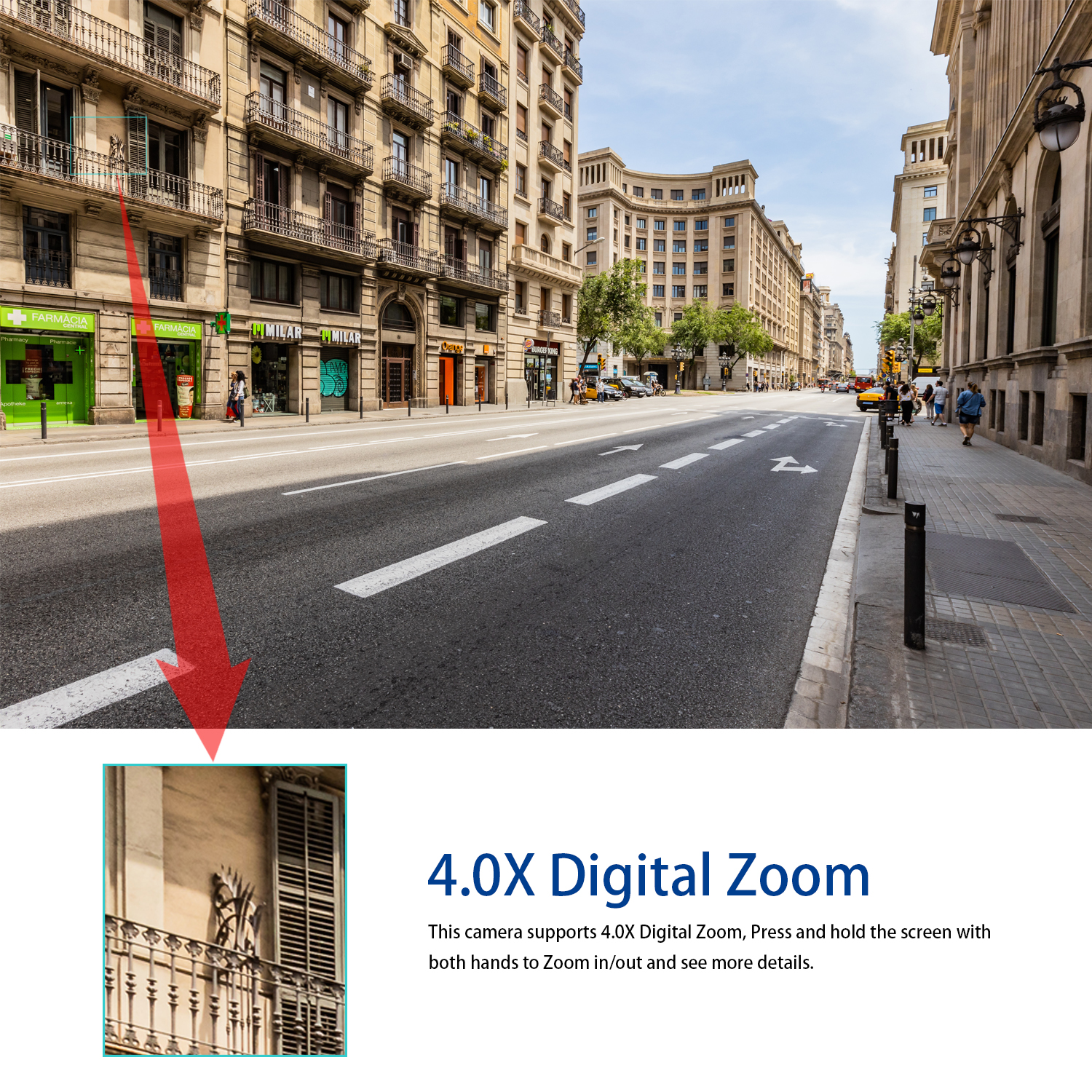 P2P Remote Access
Thanks to the convenient P2P technolog,now you can view the live footage whenever you want to ,just log in the P2P account on the app via your smartphone or tablet and start monitoring your house in no time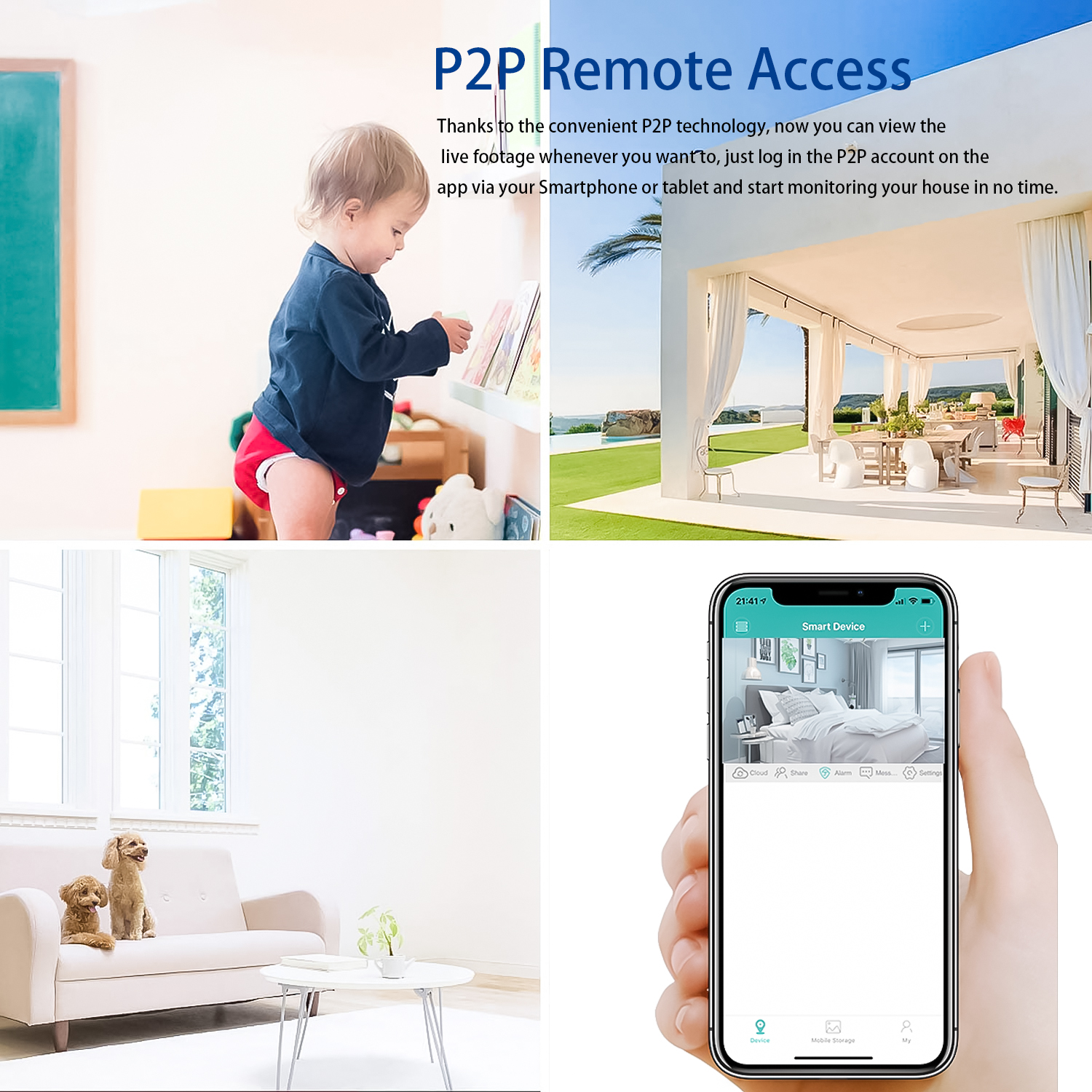 Flexible&Secure Storage Options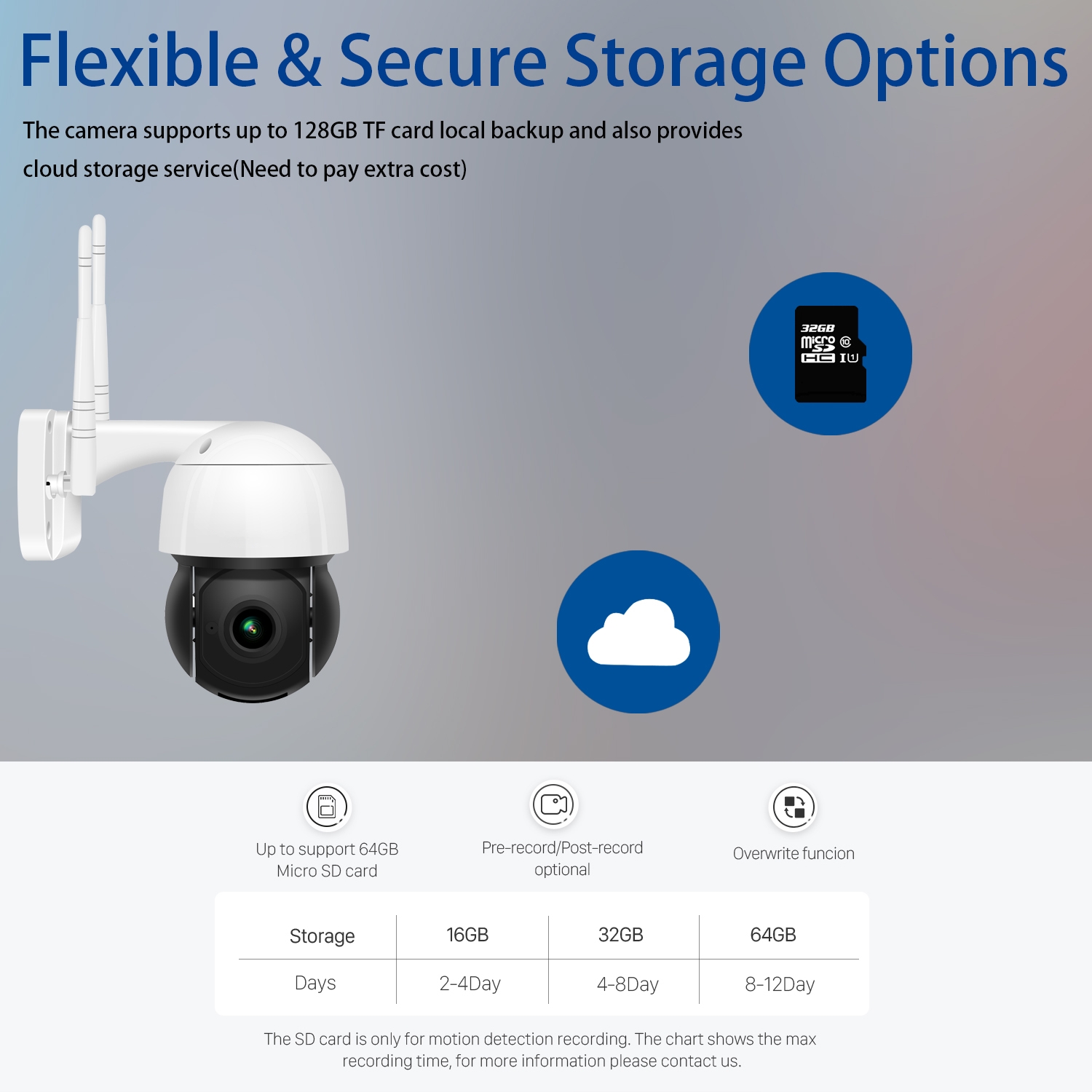 The Camera support up to 128GB TF Card local backup and also provides cloud storage service.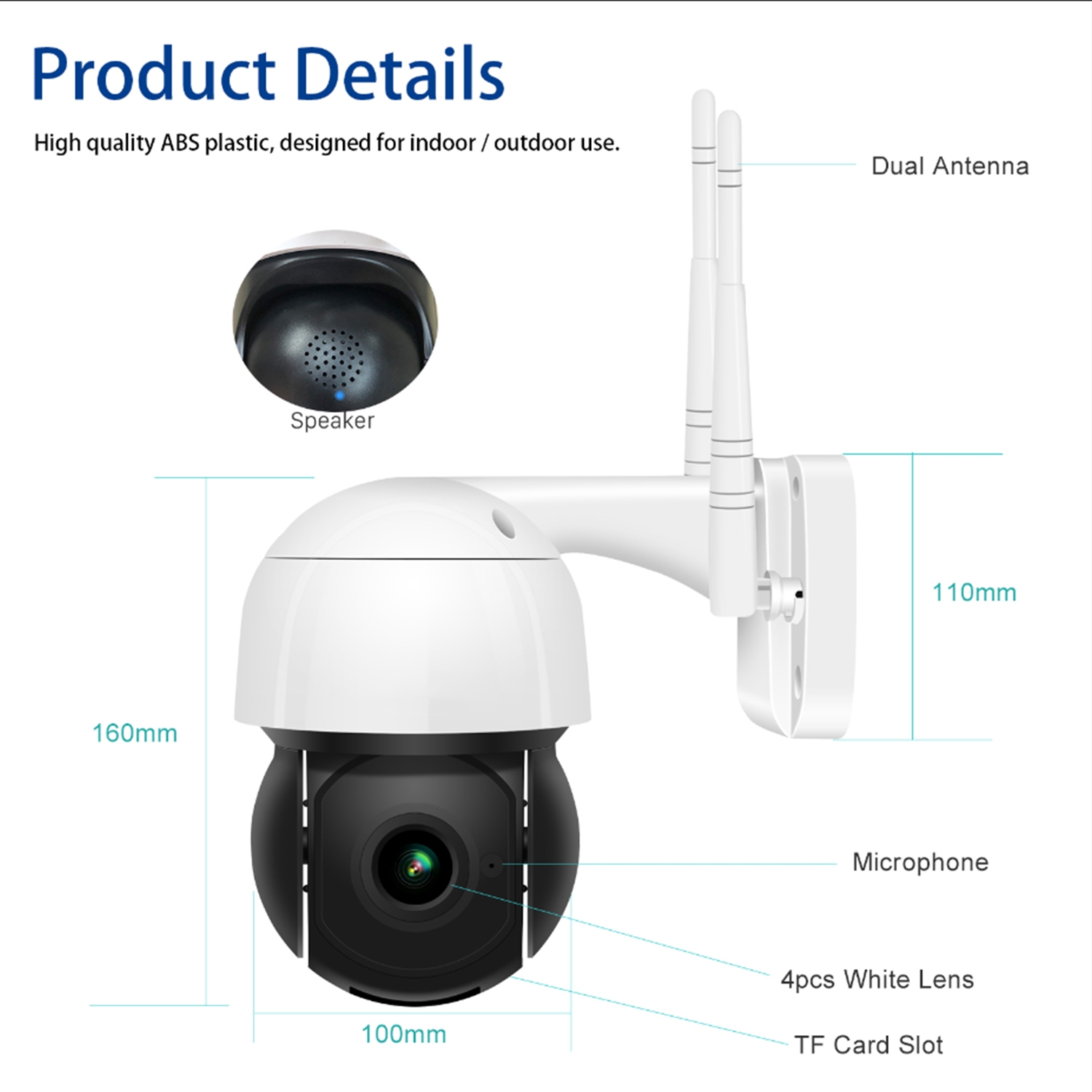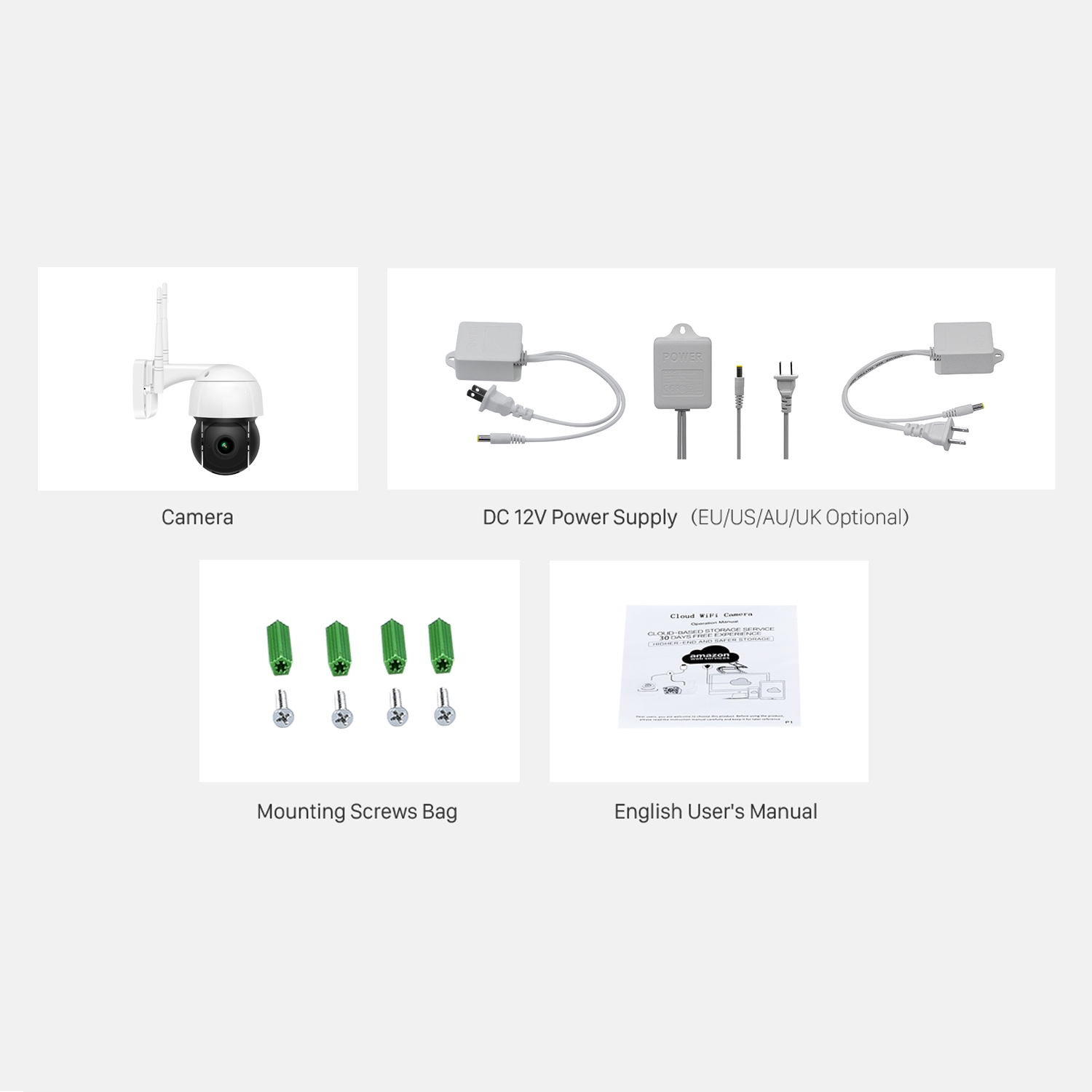 You May Like