SNO 8MP 4K Speed Dome Wireless Wifi Security Camera Human/Car Detection IP Camera Color Night Vision CCTV Video Surveillance Outdoor

Model:

SNO-PTZ18W- 80

Brand:

SNO

Weight:

0.8KG

8MP 4K Speed Dome Wireless Wifi Security Camera Human/Car Detection IP Camera Color Night Vision CCTV Video Surveillance Outdoor
4K 8MP Smart WiFi Camera
Ultra-HD 8.0MP Smart AI humanoid detection with auto tracking and vehicle detection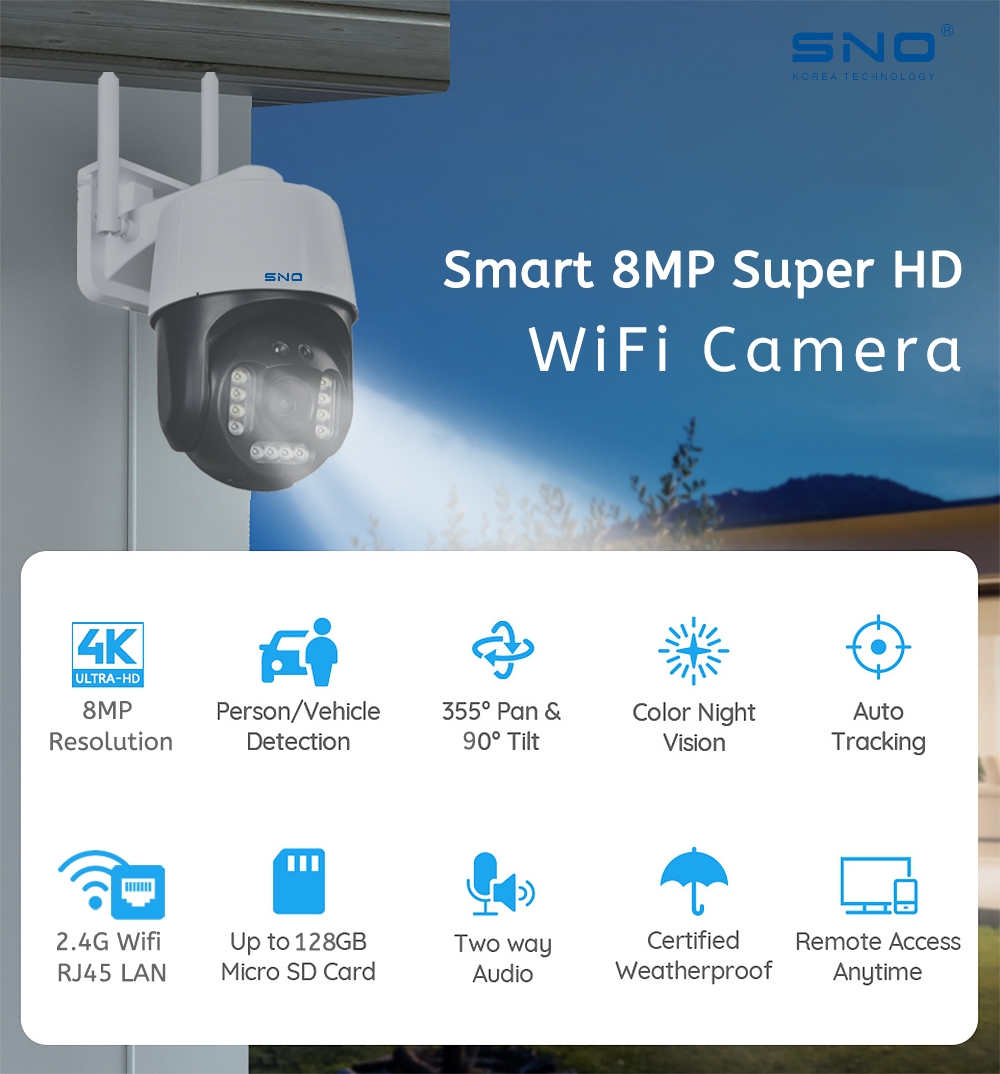 See Clearly in 8MP Super HD Images
With a pixel resolution of 3840x2160, Q3H Outdoor offers you crystal-clear images and videos.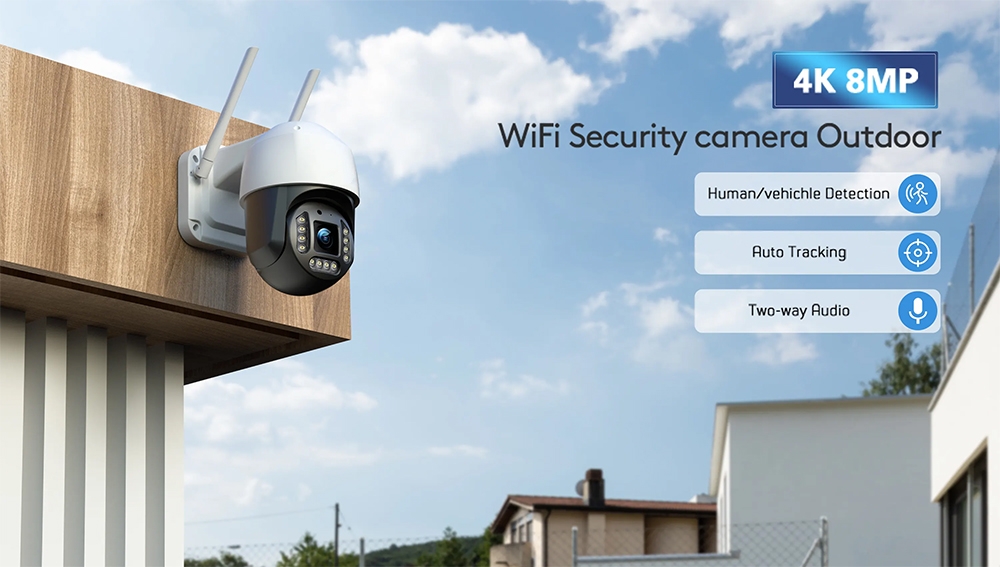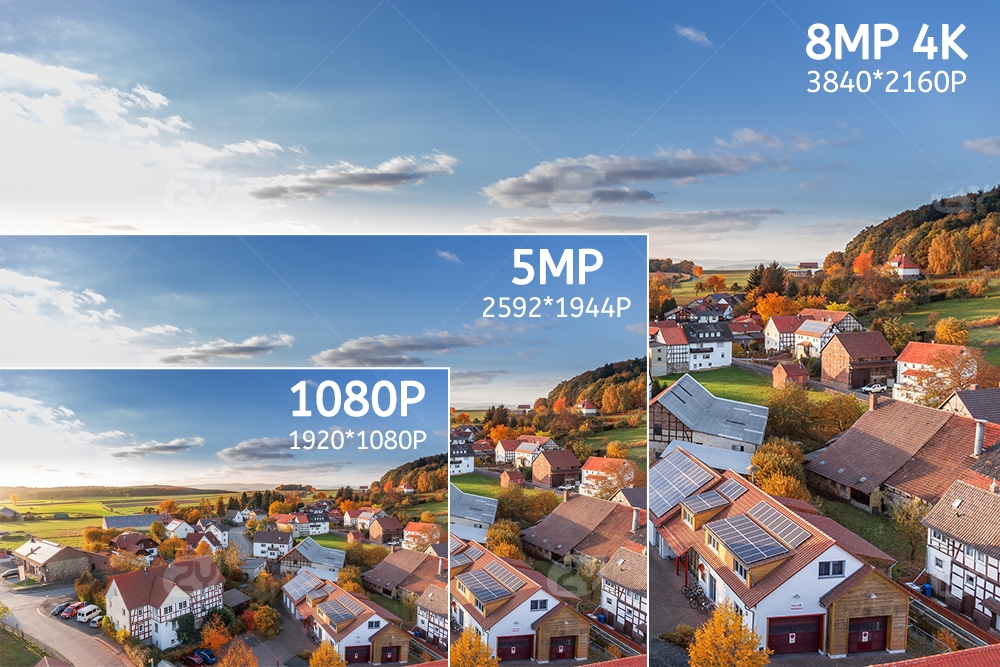 Smart Human/Car Detection
Powered by smart motion detection technology, this PTZ camera can tell people and vehicles from other objects. Get alerts when suspicious person or car is loitering around your house or store. Protect your property from potential threats.
AI Smart Humanoid Detect and Humanoid Tracking
Quickly find targets and immediately send a notification to your phone only when humanoid triggered alarm, which help you filter out the annoying false alerts such as cars and trees.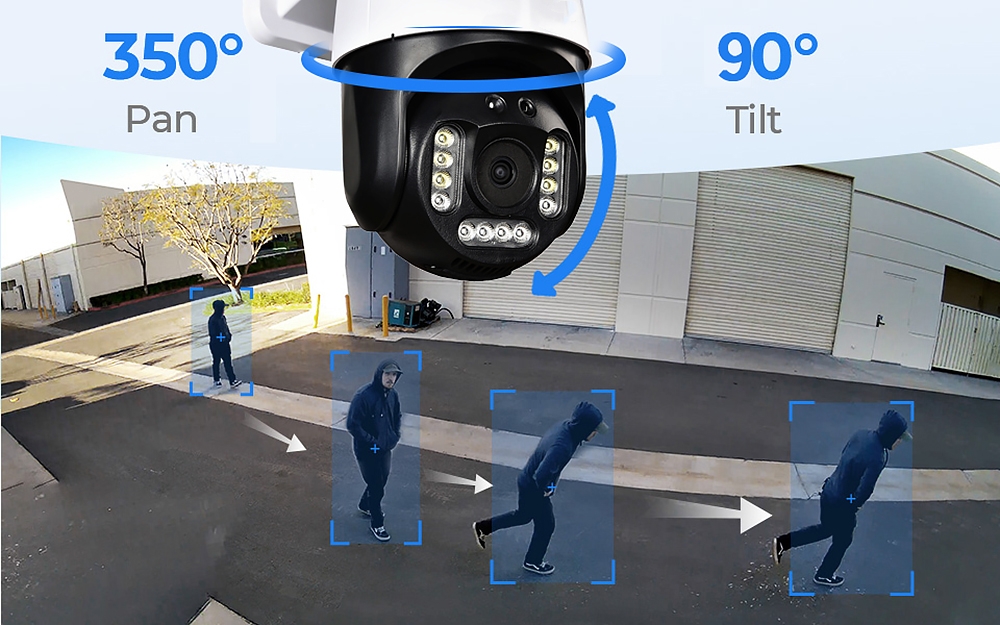 White Light and Voice Alarm
The camera automatically turn on the white light and broadcost your voice when detect trigger alarm, when you are sleeping or meeting or enjoy happy time with family, let such a smart camera guard your home !
Color Night Vision with Spotlight On
When the 6pcs white leds lighting, The camera will show colorful vision at night, when the 6pcs array IR leds turn On, IR night vision 30 meters,there are three night modes for you to select.
Pan/tilt Zoom control by App
355° translation and 90° tilt creat 360°Panoramic View. You can control it via the app, get a sweeping view on every inch of your entire home.

Customizable Zones Detection
Set motion detection zones to focus on important areas like doors or windows. So you get motion clip alerts only when something happens there.
You Got an Alert!
You will get alerted via email, push notifications from CamHipro App or siren from the Q3H Outdoor when this smart IP camera senses movement. You can configure when you want to turn on notifications-all time or on a specific schedule.
Preset and Patrol
This PTZ camera is designed to patrol in one direction only - clockwise. You can customize your own patrol, presets, pan and tilt speed according to your need.
Real-Time Conversation
Built-in mic & speaker allow you to listen and talk back to whoever the camera catches in real time: a"Hello"to friends or a"Get away!" to foes.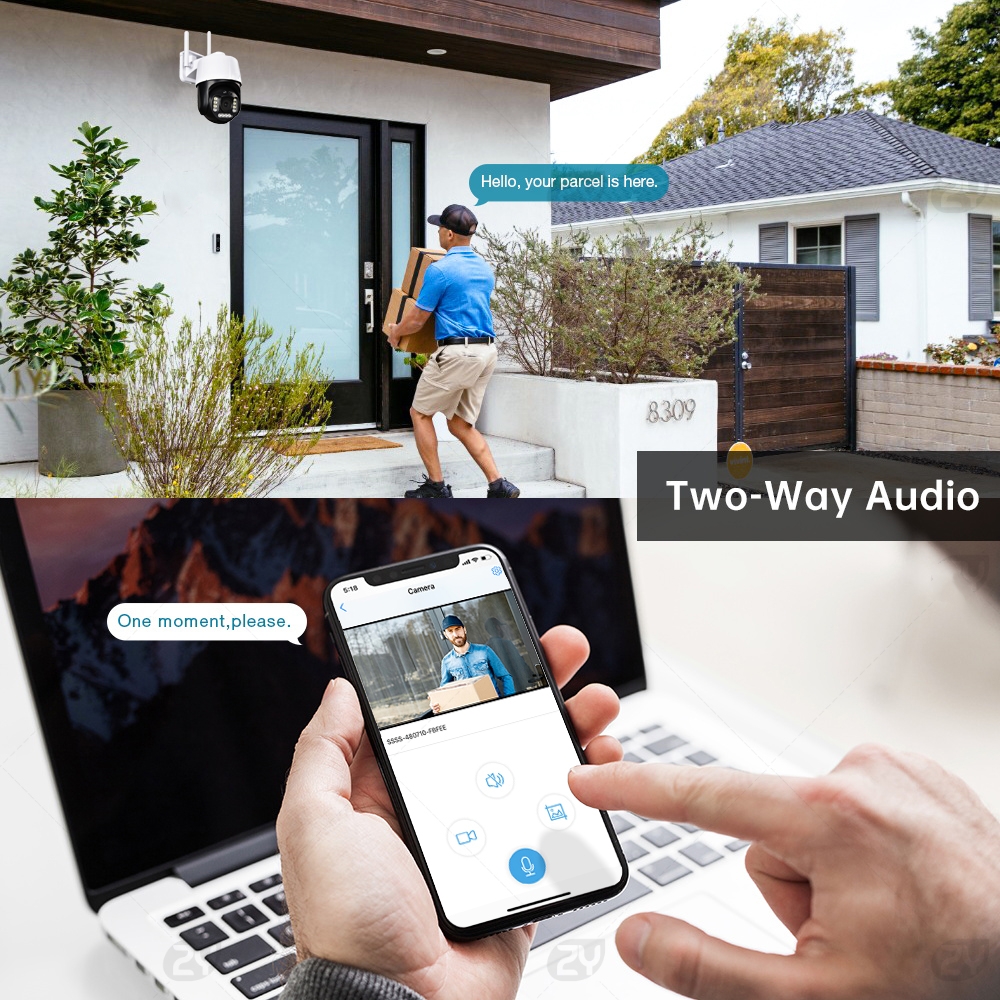 Certified Weatherproof
This PTZ camera can work perfectly in both indoor and outdoor environments. It is designed for harsh environments, and its robust housing can withstand intense heat, humidity, and cold.

*For optimum waterproof protection, follow the instructions to install the camera.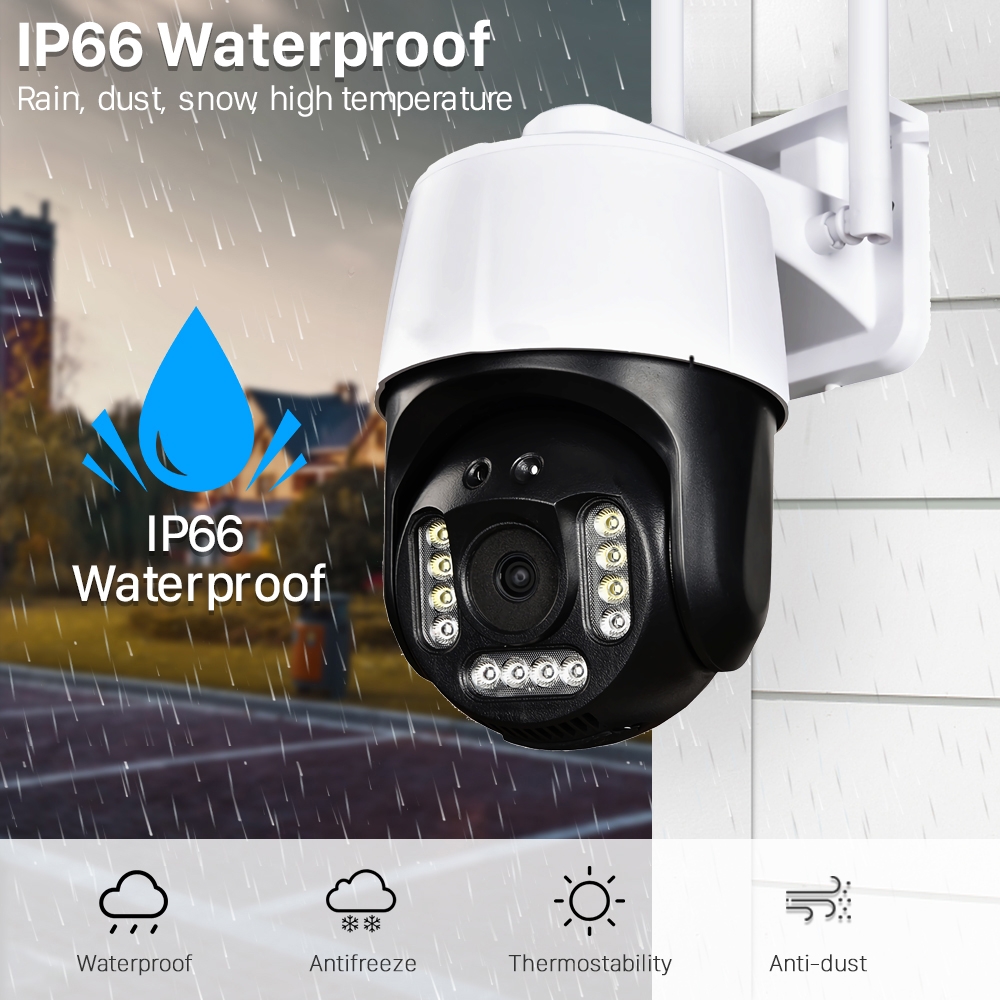 Flexible Storage Options
All recordings, whether 24/7 continuous, scheduled, or motion-activated, can be saved to a micro SD card (up to 128GB, not included), Onvif NVR or the FTP server.
H.265 Compression and Dual Stream Recording
Advanced H.265 video compression, the bandwidth efficiency and transmission speed are greatly increased. H.265 help you save 50% storage space than others. While dual-stream separates local recording from remote viewing to eliminate interference between them.
Support Multi-Users and Devices
Supports multi-users and multi-devices view simultaneously. You could share your camera with family or your friends. After sharing, they will be able to access the same camera simultaneously,so that you could enjoy the great moments together.
Save and Playback Easy
You can playback or download the recorded video from mobile App, The camera supports pre-record and post-record. When the SD card is full, it will automatically cover the old video.
Built-in AP Hotspot
Enhansed 5dB router level Full copper core antenna, 10-15meters AP hotspot.
Both Wifi and Wired Connection
The camera can connect by 2.4G wifi and wired lan cable.
Plug & Play - Quick and Easy Setup
ZYsecurity IP camera comes with a QR code that can be scanned with a mobile device using our free app (iOs and Android). This wireless camera can be quickly and easily set up.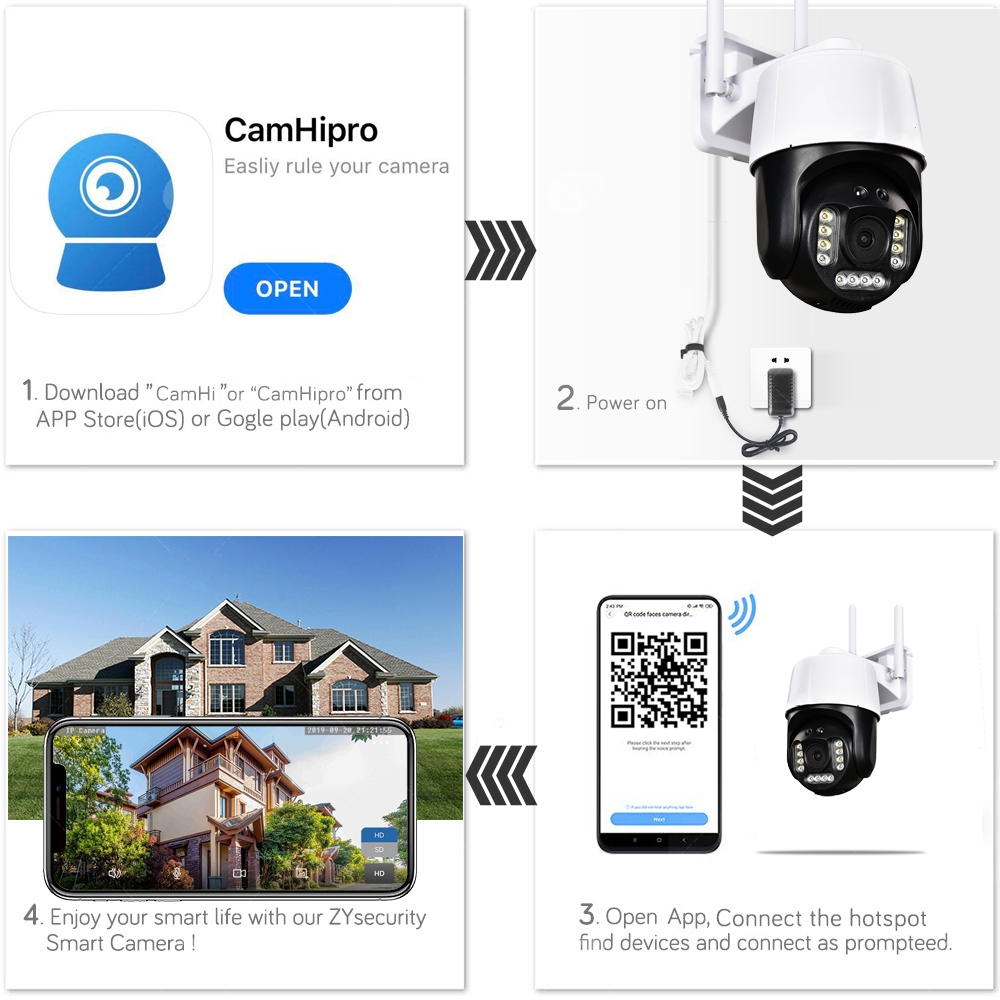 Product introduction
Adopts a highly integrated SOC processor, with extremely low power consumption and super stability; supports H.265 compression algorithm to ensure image quality while effectively reducing network bandwidth usage; powerful network functions, support standard ONVIF protocol, support RTSP, upload alarm pictures to FTP server, send alarm pictures to E-Mail, support mobile phone remote monitoring
Main features
●High sensitivity, high signal-to-noise CMOS image sensor
●The highest pixel can reach 8MP
●H.265 compression algorithm, effectively reduce network bandwidth, support dual stream, support mobile phone monitoring
● Support multiple network protocols: TCP/IP, HTTP, TCP, ICMP, UDP, ARP, IGMP, SMTP, FTP, DHCP, DNS, DDNS, NTP, UPNP, RTSP, etc.
● Support ONVIF protocol
●Support manufacturer dynamic domain name and third-party dynamic domain name resolution
●Support alarm picture to send E-Mail
●Support alarm picture and alarm video upload to FTP server
● Support to capture pictures regularly to FTP server
●Support static IP, also support dynamic IP (DHCP)
● Support P2P plug and play
●Support IE, Google, Firefox browsers
●Maximum 6 users can browse at the same time (each stream supports 3 users)
●Provide motion detection (area, sensitivity can be set) alarm function
● Support humanoid recognition function
●Support UPNP automatic port mapping
●Support Micro SD card function, up to 128G Micro SD card
●Support PC client to download SD card video
●Support mobile phone download and playback SD card video recording
Specification
Operating System: Embedded LINUX
Main processor: SSC338Q
Image sensor: 1/2.8" IMX415 CMOS sensor
Lens: 3.6mm M12 HD lens
IRCUT: support

Compression Standard
Video compression algorithm: Support H.265 Main Profile
Audio Compression Algorithm: G.711
Compressed transport stream: 32Kbps-6144bps, can be customized, default 1536Kbps

Image
Maximum image size: 8MP (3840x2160)
Definition First stream: 8MP (3840x2160)
Second stream: 720P (1280x720)
Video frame rate: 10fps(50HZ), 15fps(60HZ)
Character overlay Support OSD name, time and date information overlay
Image Settings: Brightness, Contrast, Saturation, Up and Down Inversion, Left and Right Mirror Adjustable

Network features
Storage function Maximum: support 128G Micro SD card storage, support timing recording and alarm recording storage
Motion detection: 4 independent detection areas can be set (sensitivity 1-100 can be set)
Humanoid recognition: Support humanoid recognition
Alarm linkage: Send pictures to designated mailboxes; upload pictures and videos to FTP server;
Network Protocol: Support TCP/IP, HTTP, TCP, ICMP, UDP, ARP, IGMP, SMTP, FTP, DHCP, DNS, DDNS, NTP, UPNP, RTSP
Access protocol: Support ONVIF 2.4 protocol

Interface
Audio input: 1 input, support MIC input/line input (requires pigtail support)
Audio output: 1 channel output, support for connecting headphones or power amplifiers (requires pigtail support)
Network interface: 10Base-T/100Base-TX Ethernet interface
WiFi 802.11b/g/n wireless network interface

General Specifications
Temperature and humidity 0℃~+50℃ 10%~95%RH
Power: DC12V
Power consumption 2.2W
Manage Your Camera From CamHipro App:
First time connection, please press the RESET button in the equipment base for 10s to restart camera.
Manage On PC Client CMS Software
Please contact us to get the software and full user manual
You May Like