SNO 3.0MP WIFI Robot IP Camera Baby Monitor IP Camera Voice Remote Control Smart Home Video Surveillance CCTV Wireless IP Camera

Model:

SNO-Y28-30

Brand:

SNO

Weight:

0.5kg

WIFI Robot IP Camera Baby Monitor IP Camera Voice Remote Control Smart Home Video Surveillance CCTV Wireless IP Camera
Considerate
Control the scene at any time
Do your second palr of eyes
Quality inspection report
It's surveillance.
It's more like an ornament Unique shape placed at home like a lovelyomament
Believe in the power of brands
More than 15 million customers at home and abroad
Upgrade to 3.0MP HD image quality for dlearer imaging
The lers is sngraded to a 3 milion high-defnition lens, the image is clearer, and the picture qus ity is more delicate, WDR wide dyramic even with backighing.
the picture retains more decals.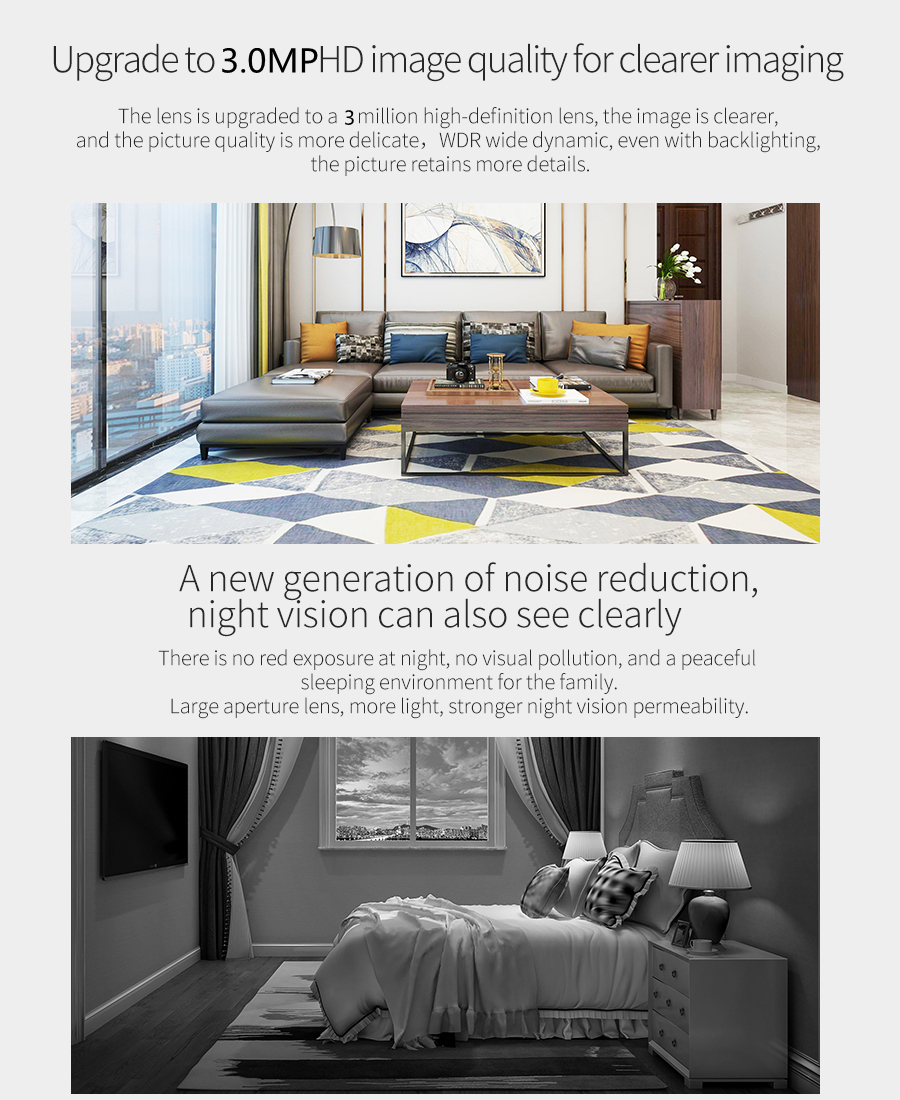 A new generation of noise reduction, night vision can also see clearly There is no red exposure xt night, no visual polktion, and apeacedd sieeping enwironment for the family Large aperture lers, more lig't, srorger night viion permeabity.
WIFl connection No wiring required
Stable transmission without dropping No frame frame, clearer picture quality
Flexible double heads, 355 circular rotation
Technical upgrade, breaking through the limit of rotation angle.
horizontal viewing angle D dead angle, 355 cycle in the same direction The ring rotates, the vertical rotation angle can reach 457
and it can be sotated up and down, left and fight, with a ckear view.
6 all glass lenses set
The all-glass lens group has better optical properties F28 Smart HD techendagy sith large aperture hs Smart eneugh to adapt to light enironment.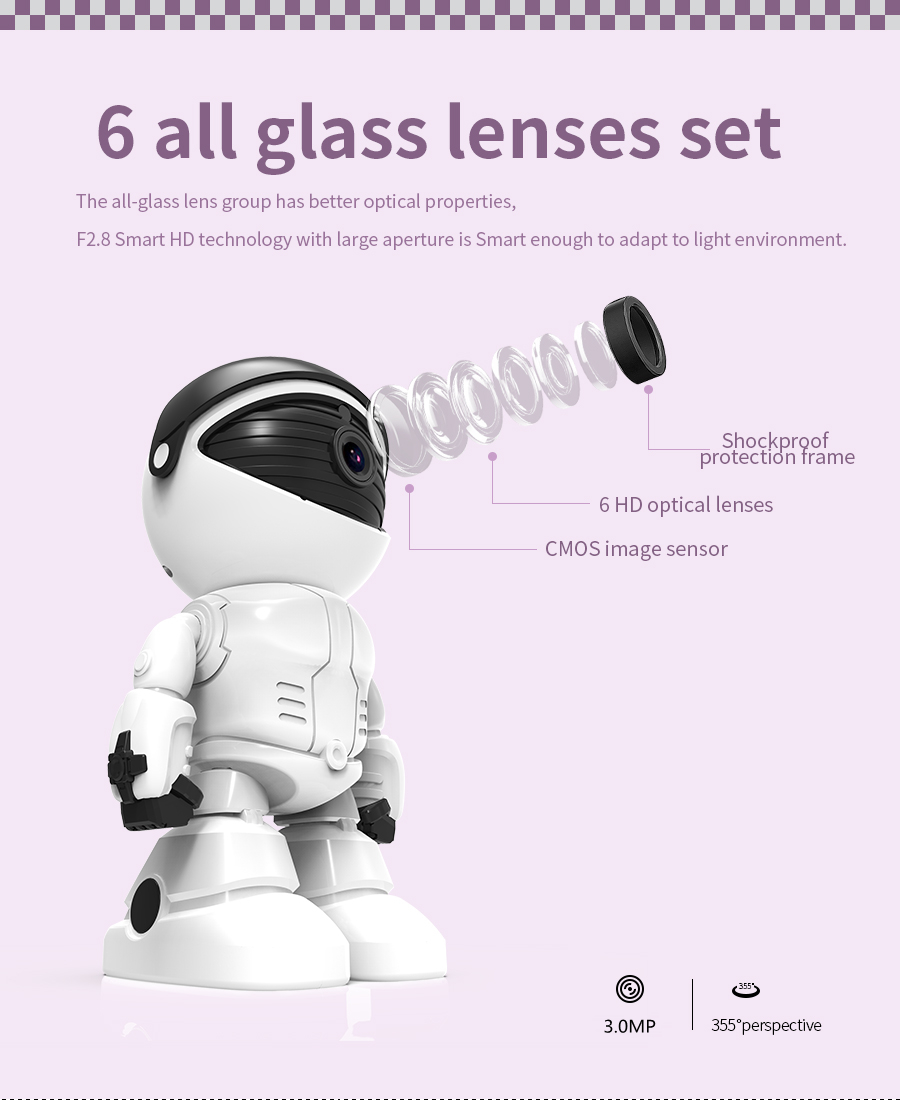 Intelligent motion detection
Tracking suspicious activities, accurate and effective alarm Inlegrated Al nhasced mobie deecticn madule to automatically capturs, tck ane shost suspcious dynamic real-time poh graph Like waming mesagers, significantly reduce interference from other objects Isuch as small animsls wal king. licht changesl False alamm caused by the cfioctive alarm more accurate.
Two way voice call
Built in speaker and noise reduction microphone communication arrier free The sound quality is clear, not only can see but alsa chat
Double risk of secure storage
TF card can automatically cycle video recording, cloud service storage, video storage to the server File storage is more secure, the camera is destroyed or stolen can also play back the video.
Night vision enhanced night detection
High sensitivity techrology allows shooting in low light conditions High configuration lens equipped with infrared night vision lamp, greatly improve the quality of shooting
With AP hotspot
it can also be monitored by mobile phone when the network is disconnected if there is no network or the network is suddenly disconnected.
you can still use AP The hot spot is within 20 meters of the mobile phone and camera, and the mobile ohone monitoning is caried out directly
Share the wonderful time
One button connection for multiple viewing Break the traditional ID and password settings so that lavdess elements have no chance to take advantage ol, more secure Input mobile phone number to share, one-to-one connection, can effectively prevent privacy leakage.
No cable required
Three step connection from
complexity to simplification
Power on connection is available without complicated setting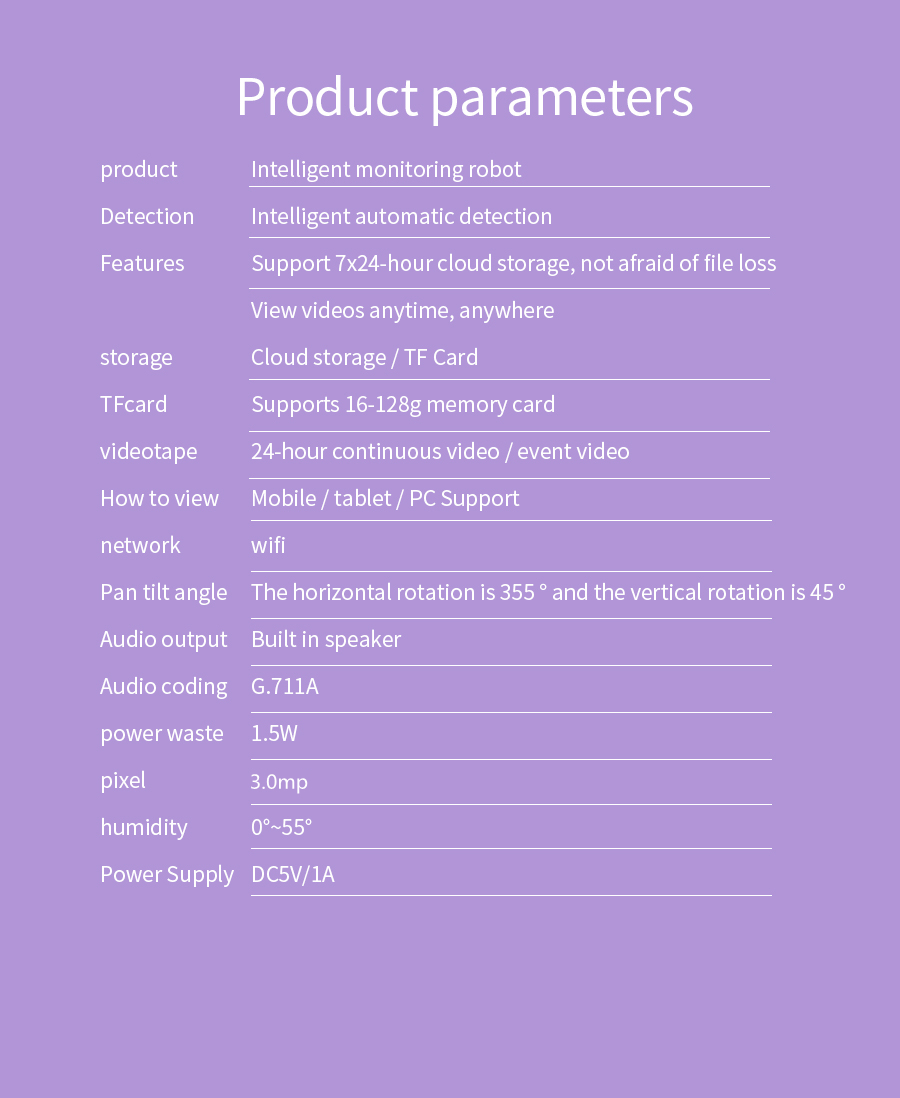 You May Like